Sick jokes like – blacks can never master swimming; blacks would sink to the bottom of pools … if they try to swim … blacks cannot float … are now bound for the dumpster of America's racist past and, to quite some extent, its present.
Stanford Cardinals Lia & Simone at an NCAA Meet where they made history with a third African-American Natalie! See Below.
College mates, Simone Manuel and Lia Neal of Stanford University swimmers Lia Neal and Simone Manuel, who set an American Record, discuss their 1-2 finish in the 100 Yard Freestyle at the NCAA Championships in Greensboro, NC. The 3rd Place finisher Natalie Hinds, [see below] of the University Florida, is also of African-descent, completing an historic event.
Gator Natalie Hinds, placed third in a history-making 1,2,3 finish by African-Americans at Division 1 college (top tier of US universities) Swim Meet. Below is a picture of the history-making trio. L to R: Lia (Silver); Simone (gold) and Natalie (Bronze).
[Credit: Google Images]
I was surprised when I first heard that African-Americans (AfrAms) could not aspire to be quarterbacks when I first arrived in the States almost five decades ago because in the words of an AfrAm friend whose wife had matriculated at the University of Florida Nursing School a couple of years earlier (UF had been integrated just a few years earlier). He looked surprised when I offered that "there's nothing special about aiming well and throwing a ball … to me, the receivers do as difficult jobs as the throwers …"
Of course, I was uninformed and inexperienced as the hierarchical world of blacks and whites was in America.  In American football, quarterbacking is the most coveted, most respected – and after college during pro career – the highest paid. And to seal the position as being the domain of white players, the campaign was long won about a quarterback's high intelligence as being a necessary qualification ! A little sports history:
Doug Williams would lead the Washington Redskins to a Superbowl – I just happened to be living in D.C. that year ('88) – although he hardly got any respect at Draft time having attended Grambling, a Historically-Black College (HBC) even though he placed a mere 4th in the Heisman Trophy and leading the NCAA in passing during one of his college years. Facts are facts: Williams was a QB for an HBC, period. Joe Gibbs got him drafted to Tampa and that  luck would follow him to D.C. and Joe Gibbs.
Williams' words on quarterbacking, and his leadership of  the Redskins to the Superbowl is right on the mark:
"Not so much black and white, but the fact that as an individual, as a person, and no matter who you are, what color you are, just get that same opportunity that everybody else gets."
The myth of high intelligence being a supposed prerequisite to being a good quarterback was shattered for the first time by the same Doug Williams, alumnus of a backwater Louisiana college – pardon me – several AfrAms have continued to show that "getting that same opportunity that everybody else gets" IS the key. Many AfrAm quarterbacks have played both before and after Williams, including a few that actually led their teams to the Superbowl.
While silly but basically racist myths still survive, many firsts have been reached by male and female AfrAms since the era of blacks-cannot-float, blacks-cannot-play-at-QB-positions …: Althea Gibson's 1951 (tennis) Wimbledon debut and victories at Wimbledon (Singles) in 1957 and US Open in 1958 – she also competed professionally as a golfer – another myth-ful sport in which AfrAms were supposedly incapable of succeeding at. It's apparent, if truth be told, that as opportunities became available for AfrAms in various sports, those who excel seem to always take each sport to new heights, for example, the Williams Sisters whose era has not only brought a lot of fan base and excitement to the traditional rich and White sports but who have set new standards for competitors in women's tennis.
Before the opening of the Rio Games, an essay on another Simone – Simone Biles  was posted on Gymnastics' Ms. Biles  who, though not the first AfrAm female gymnast, may well be the sport's best EVER, going by accolades the young lady has amassed even before doing a single vault at the current Olympics. [A second essay is awaiting Simone's final competition this weekend.]
Given the opportunities, the two young female swimmers – both Stanford University undergrads – are living proofs that race has very little to do with achievements in sports as in everything else in life; of course the predisposition of different races to different kinds of athletic pursuits cannot be denied. Enabling environment is what is holding many African countries back on the world stage in sports, a fact that can be appreciated when statistics of successful Africans in football (soccer), track and field, et cetera are compared to the achievement of many athletes once they leave Africa for Europe and America.
While a kid from a very poor background in America could easily become a basketball star picking up the necessary skills from street games to be polished later at school and college, without educated parents with reasonable income, that same kid would never dream of success in swimming.
All hail the two stars of swimming! First, Lia Neal, a two-time Olympian who won her first medal, a bronze, at the London Games in 2012.
Lia & her relay team mates:  Allison Schmitt, Jessica Hardy and Missy Franklin pose with their bronze medals in the women's 4×100-meter freestyle relay swimming final
[Credit: Google Images]
To hear from the horse's mouth the story of this young lady, check out the NY Times link below:
And now, golden girl, Simone Manuel, whose Olympic debut sees her breaking barrier and scoring records
Simone's first Olympics!
Her first gold medal in individual swimming.
She is the American, US Open, and NCAA (university) record holder
A year ago, she won gold with America's Mixed Medley Relay at the World Championships in Russia.
The relay team of the U.S., Ryan Lochte, Missy Franklin, Simone Manuel and Nathan Adrian (L-R) pose with their gold medals after winning the mixed 4x100m freestyle relay final at the Aquatics World Championships in Kazan, Russia, August 8, 2015. [Google Images]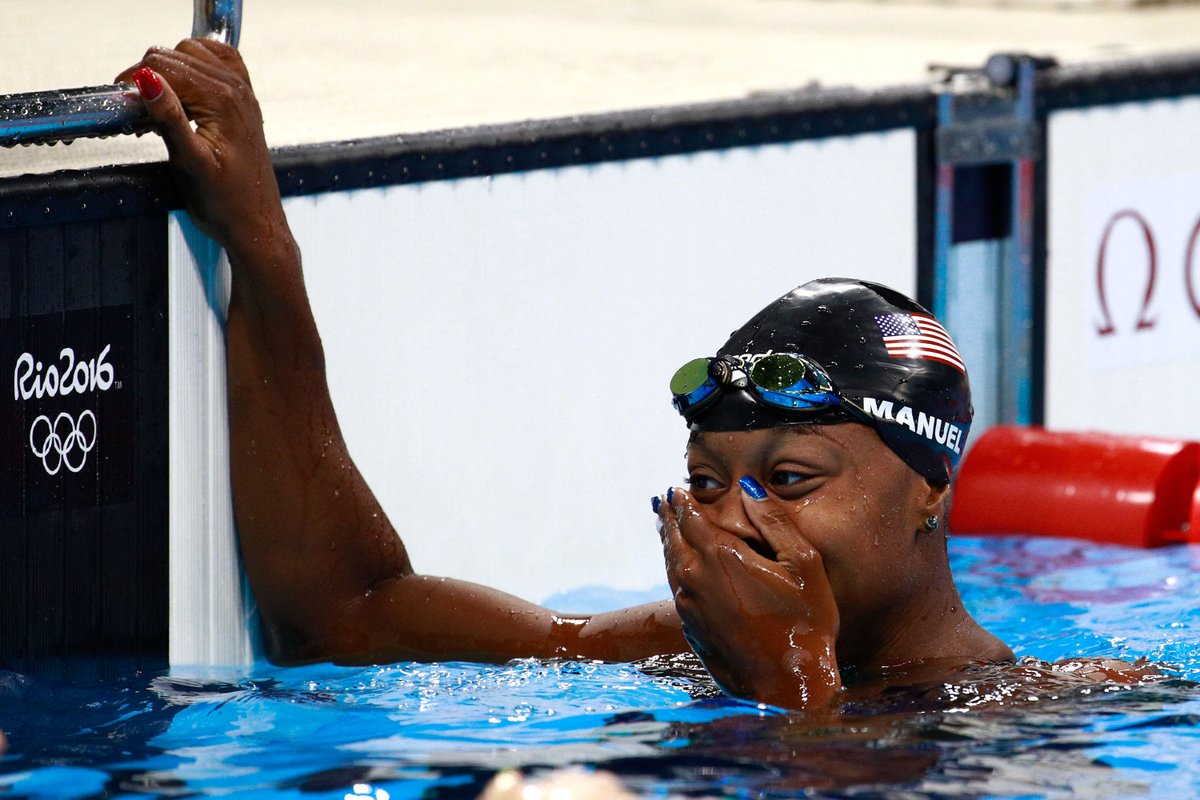 Cool and calm, in a post-victory shot after Simone had raced to the gold in the women's 100m single. [google Image]
AND WITH OLD GLORY WAVING … SHE CELEBRATED
Opportunities, meaning success or lack of it opening or locking doors against AfrAms? Simone's mother explained it to her daughter early according to a report in the dailybeast.com today:
"I think it was really helpful for her because it enlightened her that the reason a lot of blacks haven't been involved in swimming was that in the past we didn't have access to facilities," her mother told The Washington Post. "It wasn't something where we didn't have the physical ability to do it. It was access and exposure. It was a history lesson for me as well because I didn't know either."
Ms. Manuel referenced her stunning victory with a bow to the past, and a come-on to those who will follow in her footsteps:
"This medal is not just for me. It is for some of the African-Americans who have come before me, she added, referencing former Olympians Maritza Correia and Cullen Jones. "This medal is for the people who come behind me and get into the sport and hopefully find love and drive to get to this point."   http://www.usatoday.com/story/sports/olympics/rio-2016/2016/08/12/simone-manuel-gold-medalist-police-brutality-african-american-swimmer/88603406/
Simone Manuel and Lia Neal, smart, beautiful and talented young ladies, both from academic power house, Stanford,
Check out the link below for a little more on the golden girl:
http://www.cosmopolitan.com/entertainment/news/a62594/lia-neal-team-usa-rio-olympics-interview/
And learn a little about Sugarland, Texas, the town Simone calls home, a shot from America's dark past:
http://www.thedailybeast.com/articles/2016/08/13/simone-biles-shows-america-is-already-great.html
AUGUST 13, 2016. 10:36 p.m. [GMT]