[Essay's link at bottom of page]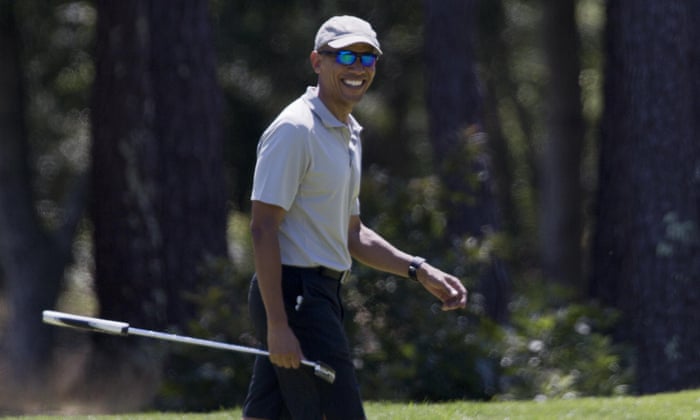 Barack Obama strides jauntily on a golf course, the GOP's self-destruction seemingly far from his mind!  TOLA. [Photo from guardian.com]
Follow the link at the end to see how GOP members at US the Senate and Congress cut their collective nose to spite their party's – and their – individual faces. From Obama's Day One as has been written here, Republicans had promised to ensure that Obama would be given a difficult time getting anything that needs approval, passed. They made good on that promise but in the process, they unleashed upon themselves the basest of their constituency, the fringe ultra right which would soon  coalesce with the Tea Party's goal of taking America back to much of its ugly past, Donald Trump's America's "greatness".
Affordable Care Act which they dubbed Obamacare even though it benefits a larger proportion of poor White than African-Americans and other minorities? Never to be allowed to pass into law without titanic battle. Rescue from the brink of many major financial and manufacturing houses, including an auto maker?  "Let GM … fail" was the GOP's response. The results of Obama-led government's intervention in these and others are there now for all to see.
Their often very disrespectful treatment of the office by their viciousness to the person of Obama fueled the resurgent racism in America, a direct invitation to the rise of Donald Trump who has become a big embarrassment to most Americans of all political shades.
No matter what happens in November, the damage that the candidacy of Trump has wrought will never go away. The candidates' vitriol, his lack of basic information expected of even a person running for a ward in a city election, his disdain for basic human values and his recklessness about facts, issues and sensitivities about people, put America in a situation that must have left the world aghast, wondering what is happening/has happened to America.
Donald Trump's first and, definitely the last foray into politics has to leave his family, especially the children, in shame because it has shown their father to be a bully, masking an unimaginable low level of intelligence coupled with an inability to understand issues that would enable him make informed choices even when those issues would benefit him, with puffing and bombastic words.
"If your political priorities are the total defeat of a single politician – not the advancement of your own policies – it fans the flames of extremism." – Richard Wolffe
Check out:  https://www.theguardian.com/commentisfree/2016/aug/09/gop-tried-sink-obama-imploded-extremism#img-1
TUESDAY, AUGUST 16, 2016. 7:15 p.m. [GMT]