South Africa's golden 'boy', Wade van Niekerk on the run in the 400 m final, as he races to an Olympic and new World Record in the 400 meter in 43.03 secs to erase America's Michael Johnson's record that had stood for 17 years!
Is this a 200m-run or what? van Nierkerk turns the 300m corner in great sprinting style!
He poses at the Omega Time Board that shows his New World Record.
With Usain Bolt after running the best race of his career. He had trained in Jamaica during the last part of his Rio prep with The Bolt,  who would stop the press conference after his record THIRD Olympic gold right in the middle of things to congratulate van Niekerk, whose victory – AND GOLD – he had predicted.
[TIDBIT:  Van Niekerk is now reported to be the only man in history to break 10 seconds for the 100m (9.98), 20 seconds for the 200 (19.94) and 44 for the 400.
AND THE PRIDE OF A MOTHER IN TWEETS …
The time is here @WaydeDreamer words can not explain the pride I'm experiencing at this moment. Gods blessings





My eldest with his baby sis the next star in the making. To God all the glory.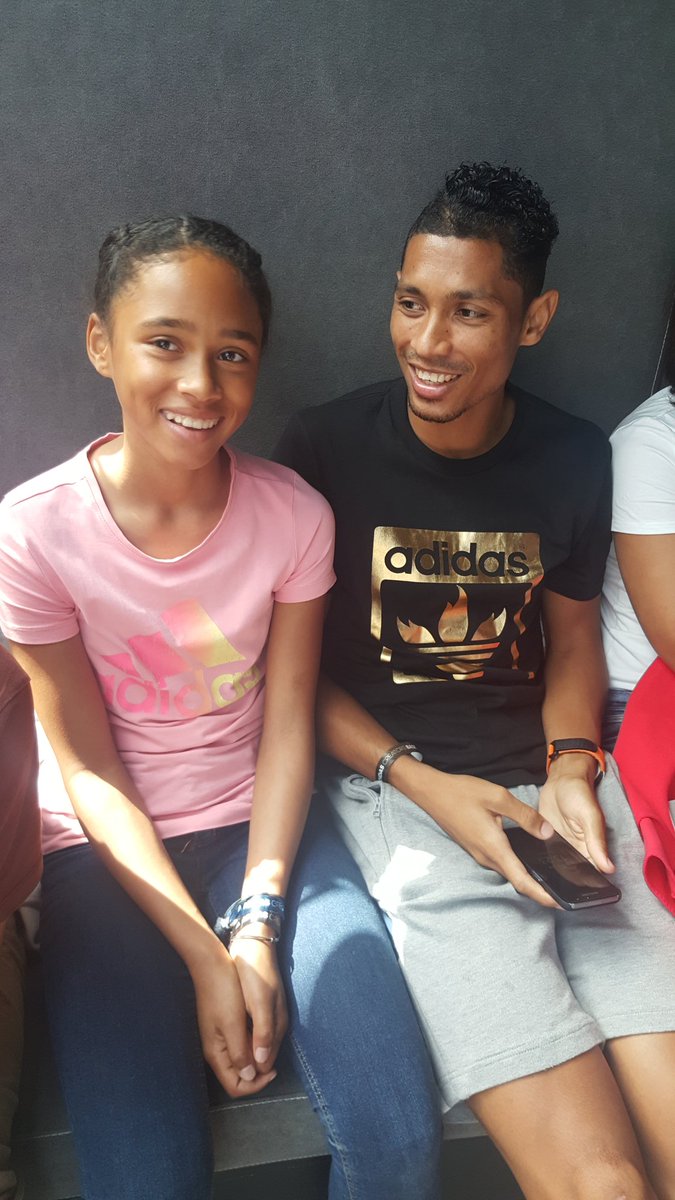 Aw- come on, guys;  we know you are already in, and having fun, there behind Bolt is [passport-Bahraini], struggling to complete this semi, for godsakes! I wouldn't call this wicked 'cause everybody seemed to have enjoyed this playfulness to such a serious matter.
Bolt and de Grasse competing (???) in one of the 100m semis August 17, 2016 at Rio! [NOTE: In the final, there was no chummy-chummy; Bolt, the Canadian took Gold to continue Jamaicans' reign as Owners of the sprints while de Grasse, the Canadian took Bronze.]
A GYMASTIC IMMORTAL AT 19!
The incomparable Ms. Simone Biles
As accurate [above on a 4-inch wide beam] as she can be playful [on her floor exercise in which she has a maneuver that's difficult to describe named after her – The Biles which makes her soar high above the earth – look easy, below! Google "The Biles" or check it out on YouTube.
the first woman gymnast since 1968 to win four (out of six possible) gold medals at a single Olympics
first US gymnast to ever win 4 gold medals at a single Olympics
first woman in the world to win 3 consecutive world championships: 2013, '14 & '15
Only two other women have won four gymnastics golds in a single Games: Vera Caslavska of then Czechoslovakia (1968) and Agnes Keleti of Hungary (1956)
Legendary coach, Marta, half of Gymnastic Hall of Fame husband/wife, Bela & Marta Karoly who started US gymnastics team on a path to great achievements since the early 1980s – is full of superlatives for Simone.
SIMONE, Number 1 among five fabulous athletes, perhaps the most admired star of the Rio Games, had so many selfies taken with her as she carried USA's flag at the closing ceremony BY FELLOW ATHLETES, I lost count. And the dazzling smiles hardly ever leave her face except during routines.
Left to Right: Gabby Douglas (1 gold); Aly Raisman (1 gold, 2 silver); Simone Biles (4 gold, 1 Bronze); Madison Kocian (1 gold, 1 silver) and Laurie Hernandez (I gold, 1 silver). [The single gold for all team members is from the Women's All-Around which in which the US took 'gold.'
ANOTHER SIMONE, Simone Manuel [Left] a college student and an accomplished swimmer out of storied Stanford University, became African-American first to win a gold at the Olympics.
Two Simones, 2 different sports, 2 Gold medals + 2 silver for swimmer Simone & 4 gold medals + 1 bronze for Gymnastics Simone, 2 MAJOR of barrier-breaking stories at the Rio Games. What a delightful & hardworking pair! What glory to good old USA despite its flaws, especially inequalities in opportunities and access based on racism for remaining a place where JUST ABOUT ANYTHING is achievable if you remain focus and are willing to put in the hard work!!
And, what blessings to Simone Manuel & Simone Biles and their families, and what great achievements for African-Americans and peoples of African descent everywhere for the continued bursting and myth shattering of racist narrative concerning our peoples everywhere!!!
And a selfie for these lovable young women during their first meeting at Rio!
Saying Goodbye to Rio on Behalf of Team USA, Biles with fellow Gymnasts

L to R: Hernandez, Biles, Marcian & Raisman
USA sweeps Women's 100 meters, first time in history at Rio's 31st Olympiad!
L to R: Kristi Castlin (Bronze); Brianna Rollins (Gold); Nia Ali in dramatic pose with American flags after their history-making 100-meter hurdles final in Rio last week.  [Credit: Huffington Post]
For toddlers, Rio provided many stars, especially a new generation of females, to look up to …
Little Laylas cheers Simone Manuel, first African-American woman to win a swimming medal at the Olympics. Her gold was especially sweet. See above for her medals.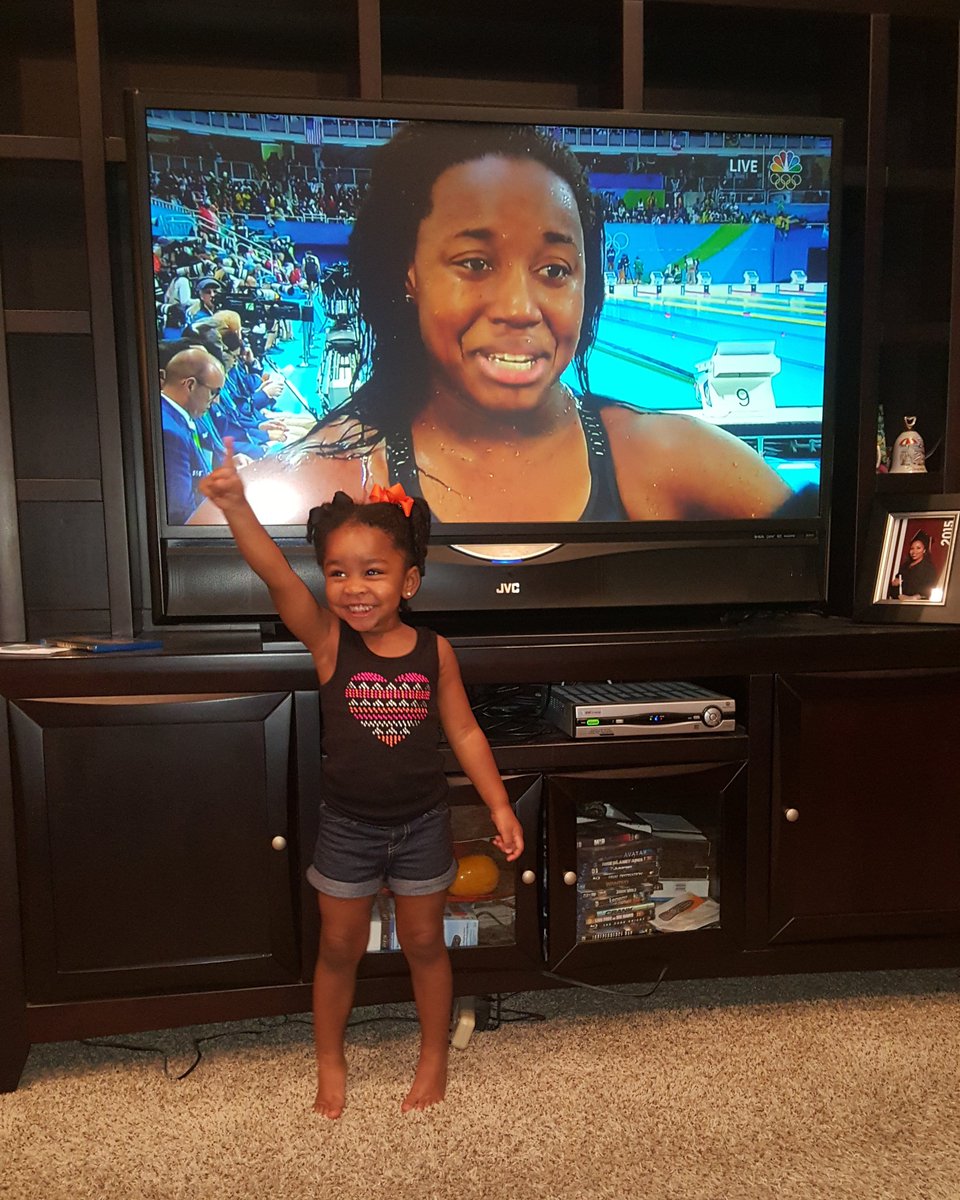 My little swimmer says, "I Got Next!" @simone_manuel#SimoneManuel#Swimming#History#TeamUsA
Not a coincidence this kid stops, watches the #10000k then completely on his own picks up my Garmin #futureolympian
Gymnast, Simone Biles already commands loyal following …
Kanye and Kim's little girl, Miss North West adores Simone so much that her mom reported she would roll and tumble on the bed trying to copy Simone whenever she had a routine. The affection seems mutual as Simone has reportedly expressed her wish  to have "North West to Be Her 'Mini Me". How cute!
It started with Kim wishing Simone good luck before her first medal, a tweet that mentioned North's gym interest. Simone tweeted back, thanking Kim and casually added: " … by the way, I am obsessed with North. So adorable …"
Every Olympics, there always seems to be a young gymnast that captures the imagination of the whole world, especially little girls; may have to do with the magic-looking dare-devil moves of young ladies who do not tower over them; who knows!
In a pre-Olympics post, I mentioned how my little girl got interested in gymnastics when she saw Mary-Lou Retton at the LA Games in 1984.
[https://emotanafricana.com/2016/08/04/its-another-olympics-quadrennial-mary-lou-retton-reincarnates-in-more-daring-and-as-lovable-simone-biles-tola-adenle/]
Other gymnasts have made the daring sports attractive to young girls: Nadia Comanecci, Kristie Phillips, Olga Koburt, Dominic Daws, Shannon Miller, Gabby Douglas, and now Simone Biles although there are many more Olympians and gold medalists at the World Championship level who have also become role models to young girls who would later go ahead to become stars.
HONORABLE MENTIONS: Nigeria
Stranded in Atlanta; team cash-strapped; flight to Rio delayed for days till – yipee – Delta to the rescue – Arrived Rio on day of first match, no kits; Played and won first match- got out of Group Stage B with top score (Other teams: Japan, Colombia & Sweden) … It walloped Denmark 2-0 in the Quarter Finals before falling to the German machine 0-2 at Sao Paulo's Corithians Arena.
NIGERIA TOOK BRONZE DESPITE  ALL ODDS by beating Honduras 3-2, a match that saw Nigeria run to an early 2-0 lead.
Eagles Skipper,one of the older players allowed by the Olympics rule to be older than 23 worked hard in the 3-2 victory over Honduras.
An intriguing story of a can-do lucky Olympian who was a little short
I happened on one of the rowing heats and was surprised but excited when I saw a female in Nigerian colors rowing! I thought of the many women I had seen on various Lagoons in Lagos, Nigeria. Those women, sometime with babies strapped to their backs, and rowing alone, were good: strong, dexterous and very capable. None was ever in competition with other women but as I watched Chierika Ukogu, I became almost mesmerized. The only rowing competitions I have watched on and off on television since 2005 are the annual Oxford/Cambridge event.
Now, this was something else. As soon as she got to the end of the Heat which saw Chierika move to the Quarterfinals, I went on line to search for the young lady sent by Nigeria to row at Rio!
I was not surprised to learn that Chierika is a Nigerian-American who is a a Princeton student as many competitors at Rio were, especially in sports like swimming.
Although Chierika – who probably financed herself to compete in the event at the FISA Olympics qualifying competition at African level, her appearance at Rio for which she qualified, was crowd-funded, that new phenomenon of raising funds through individual donations launched through the web.
Chierika raised $15,000.00 which enabled her participate to represent "her country", a country that would subsidize Hajj pilgrims in hard-to-find foreign exchange by business people in Nigeria. A country whose stranded Olympic team was described in negative superlatives when billions are stolen daily is a shameless country.
While Chierika did qualify through four rounds, and actually placed in her fourth round, a semi-final, she did not medal, still, a very laudable achievement.
Congratulations to "Coco" for all the efforts that got you to Rio. To hear the commentators, one would think you were doing something strange to people in the land of your parents' births. Of course it would be strange to see a woman in a rowing competition but young lady, keep up the interest and effort but I am sure you've visited Nigeria and must have seen women rowers and paddlers on the lagoons in Lagos.
After the 2012 London Games, I wrote an essay: To win gold, we must invest in gold :
https://emotanafricana.com/2012/04/04/to-win-gold-we-must-invest-in-gold-olympic-musings-conclusion/
It is an admonition that remains very relevant because there were other self-funded and crowd-funded athletes wearing Nigerian colors at Rio, including track stand-out, Regina George, Shot-putter, Nikki Okwelogu, and a few others.
A smiling Chierika smiles at the world. [Credit: AFP]
WEDNESDAY, AUGUST 24, 2016. 2:40 a.m. [GMT]