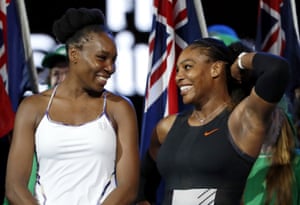 The joy of two loving sisters
This Cup's for Us! [Photo Credit: AP; Copy: Tola Adenle]
It was their 9th  head to head grand slam final, and with an intimidating 20-0 score line in Grand Slam Finals, a 15-11 head to head lead over big sister, Venus, a supreme confidence in her ability and in who she is, her chance to regain World's Number One (a post she had held from February 2013 to 2016 U.S. Open), AND THE BIGGEST PRIZE, the chance to break Steffi Graff's Open Era 22-wins she had co-owned that record with Steffi since Wimbledon 2016, the stakes were very high for Serena.
It was not by any means a one-sided affair as Venus showed what had taken her through the earlier rounds, including her match against Coco Vandeweghe in the semis but considering all the above, and what was at stake, the result was not unexpected at one of tennis' most prestigious tournaments and sites in Melbourne Saturday.
It was still a gold-plated opportunity of the World's Number Two's chance to break a jointly-owned record and make it all her own at a meeting with an old partner whose game she understands inside out just as her opponent on the other side of the net knew hers.
The spring in her steps from her recent engagement could not be discounted.
Venus' role in her little sister's rise to tennis super-stardom cannot be discounted, either.
And, for the exception of the early going of Serena's career, it was apparent she's the better player of the two very talented and very hard-working tennis stars.
Richard Williams, the legendary father-coach whose personal handling of her daughters' careers ensured they learnt the game in a positive environment that might not have met the coaching standards at fancy tennis academies, but would be high on mastering not just tennis technicalities but building confidence. He had told everyone so when Venus first burst on the scene: wait till her sister joins the tour because she's more talented and would one day become World's Numbers 1 & 2 (words to that effect).
Outrageous and preposterous!
The tennis world soon started to take notice but not in a positive way. Everybody – except the father, and perhaps little Serena who once told the world at age eleven (11) when asked those that inspired her: she wanted to grow up and have others look up to her.
Today, millions of tennis fans stand in awe and admiration at how prescient Richard Williams was decades back when he self-taught himself tennis so that two kids he purportedly produced for tennis greatness with Oracene, (his wife) could become stars who would earn a lot of money like the girl he saw on tv who earned a princely sum of $400,000 as a winner of a tennis match!
En route to producing two future Hall of Famers, he did not endear himself to tennis establishment in what was must have been seen as belittling tennis, a game mostly played at the highest level of competitions by rich white kids; an arrogant assessment of what the game entailed must also have counted against Richard.
Today, Richard Williams' template has been copied by many tennis parents who saw his – and Oracene's example – and used it to coach their own kids. There are now many parents/children coach/tennis player teams on the Circuit.
Needless to say that an academy would not have built such self-assured female African-American tennis players. Yeah, they could have won championships, including grand slams but the never-let-anyone-define-who-you-are attitudes of the young ladies could only have come from loving parents who have lived the very confining and suffocating racist African-American experience that the United States present.
I remember the collapse of African-American Zina Garrison in the 1990 Wimbledon Final against tennis immortal, Navratilova who I've read as having "blown Zina off the center court." The match that I remember saw Zina become as nervous as another Wimbledon finalist against Navratilova who wept profusely at the cup presentation – and lost. Zina blew away her chancees if what she played against Steffi in the semi-final is any indication of her capability.
Venus and Serena were supremely-confident young women who were not encumbered by posturings at the other ends of their nets.
While they were met with overt racist actions and undertones almost throughout their careers, including the US Open – perhaps up to only a couple of years ago – where American fans would overwhelmingly support non-Americans who play the ladies, they never waivered and remained even gracious in the face of blatant racism.
A point for Serena was once counted in favor of wonder kid Jennifer Capriati. They weathered it all: hostility, hatred and out- and-out racism.
Tennis great, Billie-Jean King, has always been very encouraging to Venus and Serena; I write this from just observing Billie-Jean and the younger ladies on tv, and reading tennis news.
For Richard's work on his kids whose addition to the game has brought it not only a large swathe of fans and pros who saw in the two African-Americans people like them, but the addition of Venus and Serena to tennis has enriched the game tremendously, and raised its standard.
In addition, he widened the population field of those who entered tennis by showing you need not be rich to have your kids play "rich white folks' sports".
For these, Richard, like his kids, belongs in the Hall of Fame.
Serena Williams and sister Venus Williams pose with over 380 Australian Open ballkids ahead of the 2017 Australian Open on Jan. 10, 2017 in Melbourne, Australia.  Michael Dodge—Getty Images
NIKE'S TROPHY: Couldn't have been the shoes but do not tell that to the fans who will rush to snatch up loads of the snazzy gear!
[Serena shows off some special footwear in the wake of her record-breaking title. Those are custom Jordan 1s with the number 23 emblazoned on the heel. –
Tweet by Bryan Armen Graham(@BryanAGraham)
Serena changed into these icy custom Jordan 1s commemorating her record-breaking 23rd major for the trophy ceremony. pic.twitter.com/YK2SMP7U8D
FROM wtatennis.com come these beautiful memories of what the tennis world may term "sibling rivalry" but which, in reality, has always been an exemplary show of cool genuine sibling love that never showed the least sign of sibling jealousy:
Venus & Serena seemed to "own" -if not Wimbledon but – many opponents. Serena won 7 of her 23, and Venus, 5 of her 7 Grand Slams, from the fabled Grass Court at SW 19. [wtatennis.com; A Rivalry …]
Here are more from: A Rivalry Renewed: Serena versus Venus, in Photos – First to Last
1. Australian Open, Second Round – 1998
Venus defeated Serena 7-6(4), 6-1
2. Rome, Quarterfinals – 1998
Venus defeated Serena 6-4, 6-2
3. Miami, Final – 1999
Venus defeated Serena 6-1, 4-6, 6-4
4. Munich Grand Slam Cup, Final – 1999
Serena defeated Venus 6-1, 3-6, 6-3
5. Wimbledon, Semifinals – 2000
Venus defeated Serena 6-2, 7-6(3)
6. US Open, Final – 2001
Venus defeated Serena 6-2, 6-4
7. Miami, Semifinals – 2002
Serena defeated Venus 6-2, 6-2
8. French Open, Final – 2002
Serena defeated Venus 7-5, 6-3
9. Wimbledon, Final – 2002
Serena defeated Venus 7-6(4), 6-3
10. US Open, Final – 2002
Serena defeated Venus 6-4, 6-3
11. Australian Open, Final – 2003
Serena defeated Venus 7-6(4), 3-6, 6-4
12. Wimbledon, Final – 2003
Serena defeated Venus 4-6, 6-4, 6-2
13. Miami, Quarterfinals – 2005
Venus defeated Serena 6-1, 7-6(8)
14. US Open, Fourth Round – 2005
Venus defeated Serena 7-6(5), 6-2
15. Bangalore, Semifinals – 2008
Serena defeated Venus 6-3, 3-6, 7-6(4)
Wimbledon 2008
16. Wimbledon, Final – 2008
Venus defeated Serena 7-5, 6-4
17. US Open, Quarterfinals – 2008
Serena defeated Venus 7-6(6), 7-6(7)
18. WTA Finals (Doha), First Round – 2008
Venus defeated Serena 5-7, 6-1, 6-0
19. Dubai, Semifinals – 2009
Venus defeated Serena 6-1, 2-6, 7-6(3)
20. Miami, Semifinals – 2009
Serena defeated Venus 6-4, 3-6, 6-3
Wimbledon 2009
21. Wimbledon, Final – 2009
Serena defeated Venus 7-6(3), 6-2
22. WTA Finals (Doha), First Round – 2009
Serena defeated Venus 5-7, 6-4, 7-6(4)
23. WTA Finals (Doha), Final – 2009
Serena defeated Venus 6-2, 7-6(4)
24. Charleston, Semifinal – 2013
Serena defeated Venus 6-1, 6-2
25. Montréal, Semifinal – 2014
Venus defeated Serena 6-7(2), 6-2, 6-3
26. Wimbledon, Fourth Round – 2015
Serena defeated Venus 6-4, 6-3
27. US Open, Quarterfinals – 2015
Serena defeated Venus 6-2, 1-6, 6-3
Thanks for the memories, Ladies, & here's wishing you and your family the very best.
You may also wish to check out the following as regards this post:
http://www.wtatennis.com/head2head/player1/9044/player2/9027
https://emotanafricana.com/2011/06/28/snub-racism-and-official-cheating-against-venus-serena-remember-when-%E2%80%9Cumpire%E2%80%99s-unforced-errors-lift-capriati%E2%80%9D-over-serena/
https://emotanafricana.com/2015/09/04/andy-roddick-on-the-ugly-truth-behind-how-we-treat-serena-williams-justin-blockhuffington-post/
https://emotanafricana.com/2014/09/11/comments-on-huffposts-watch-serena-williams-at-age-11-adorably-predict-her-greatness-tola-adenle/
SATURDAY, JANUARY 28, 2017. 4:31 p.m. [GMT]