Yewande Akinola, a civil engineer, won the Young Woman Engineer of the Year for 2012. Like most of the young women featured in the Institution of Engineering & Technology advertiser content hosted by [UK] The Guardian, Yewande has won many engineering awards. [Photo Credit: Google Images]. Much more on her here through the search box.
Among many awards, Ozak Esu, PhD Electrical Engineering, was named the 2017 Institution of Engineering and Technology's (IET) Young Woman Engineer of the Year. [Photo Credit: Google Images]
Yewande & Ozak have done Nigeria proud by taking two of the thirteen slots in Britain's  Institution of Engineering (IET), The New Faces of Engineering.
They pose with eleven other leading women engineers in stunning photoshoot by Rankin to challenge gender stereotypes in the industry.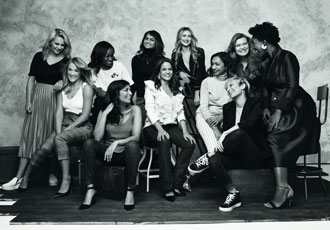 Ms. Ozak Esu – 2nd L (Back Row) & Ms. Yewande Akinola, (BTW mother to a beautiful little lady) 1st R, pose with other young engineering high achievers in the IET Photo Shoot group photograph. [www.engineeringspecifier.com]
For the story and spectacular images of these young ladies that will give the young queens of runways of various Fashion Weeks a run for their starved bodies – okay, I admire models! – check out the link below, or copy the url and paste to a new window.
Ozak is #2 and Yewande is #12. 
https://www.theguardian.com/advertiser-content/engineer-a-better-world/the-new-faces-of-engineering
Theseyoung women are all great role models to girls and many have participated in taking their educational and professional to schools in the UK to encourage young girls in STEM (Science, Technology, Engineering & Mathematics) education.
TUESDAY, FEBRUARY 6, 2016. 7:37 A.M. [GMT]