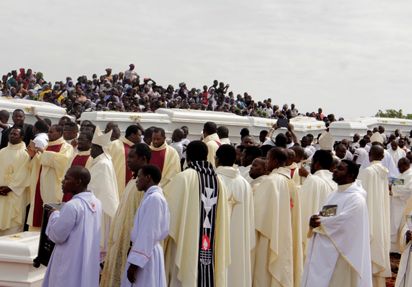 Funeral procession on May 22 of two Catholic priests and 17 worshippers allegedly killed by Fulani herdsmen in April during a Sunday service.
Nobel laureate, Professor Wole Soyinka has charged President Muhammadu Buhari to cry out for help from the international community to stem the killings by herdsmen which he, yesterday, described as ethnic cleansing.
"Let's not play around with the euphemisms. It's no other word but ethnic cleansing. There's no other definition for what has been going on here. And it's very sad to me personally to see that a nation like Nigeria, with so much human talent, has failed to learn the lesson of the history of places like Rwanda. "It happened in Europe, ethnic cleansing in Serbia, Bosnia and Herzegovina and elsewhere, so it's not a new phenomenon. And, therefore, we should have been able to learn from the experiences of others and stopped this thing before it became an epidemic which is what it is today.
"People are dying, this government cannot cope, please just ask for international help and I know they're ready and willing to come to our aid.'
The state's Governor Ortom in his response, said the recent events in the state were a combination of ethnic cleansing and jihad.
Read the whole story at:     https://www.vanguardngr.com/2018/05/995480/
FRIDAY, MAY 25, 2018. 12:05 [GMT]